Added 14 of January, 2010 - Training of a Houseboy: Episode 3 "The Cock Puppet"

from Divine Bitches
Divine Bitch: Mistress Dragonlily, Worm: Kade
Day three of training for Kade has only become harder! Kade is made into a complete foot service slut by foot dom, Mistress Dragonlily. If you're into foot worship, you will love the ball gag nail polish holder, foot bathing, toe sucking, sole licking and barefoot trampling! Kade can't seem to satisfy the high standards of Dragonlily and gets a painful OTK spanking and caning. She uses her unique techniques of punishment by making him crawl on rice and hold heavy buckets filled with rice during ass worship. Dragonlily's orgasms are completely intense. The look on her face says she gets nothing but true pleasure from being such a sadistic woman. She even gives Kade a chance to fuck her. When he fails miserably he's made to put on a humiliating thick, rubber cock sheath over his dick that's 4 times the size of his cock. She fucks her wet pussy with it to orgasm while he can't do anything but lay there defeated and helpless like the little cock puppet he is!

Click on the picture to download a clip (17 MB)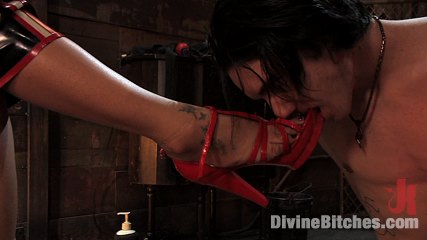 Don't miss the rest of Kade's episodes here at Divine Bitches! Come back and see if this slut has what it takes to serve on the prestigious The Upper Floor!
Maitresse's Evaluation
Objectives
service
made to be a foot service slut

gratitude
have gratitude for opportunity


Closing assessment
proper eye contact improving
proper body language still needs work
more anal muscle training
useful for certain service (ass worship) needs further training in others (foot service)
potential for Upper Floor slave service
---
Added January 12, 2010. Video is large (6 minutes) so wait for download!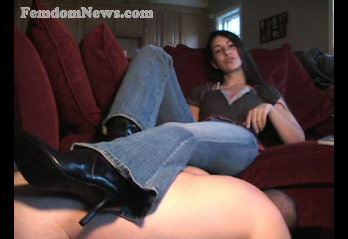 Enter Mistress Jennifer _ _ _ _ Enter Humiliation POV _ _ _ _ Enter Pantyhose Supremacy _ _ _ _ Enter Club Dom_ _ _ _ Enter The English Mansion _ _ _ _ Enter Under Feet _ _ _ _ Enter Divine Bitches _ _ _ _ Enter Strapon Hell
---
Posted January 11, 2010.
Bijou's Stocking slut - Part One
This is for you sorry bastards who are addicted to the scent of stinky hose. I feel sorry for you- but you do amuse me! My stocking slut in this clip is very happy humiliating himself on video sniffing my stockinged feet. I fuck his mouth with my foot, and order him to lick and taste the hose. Meanwhile, I make fun of his small cock. When I' ve had enough of his slimy tongue on my feet, I order him to jerk off. That thing dangling between his legs has got to be bigger than that….He has no idea what I' m going to make him do next…. Once he's cum….
Click on the picture to download the clip :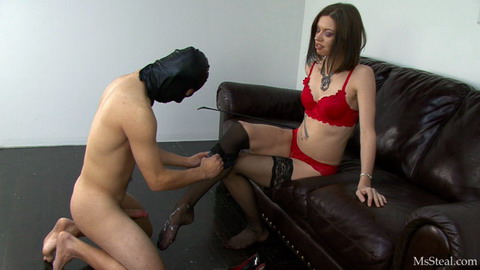 ENTER Ballerina Gone Bad

Updates of other good femdom sites :

Club Dom -

Stone cold whipping 2




Coming 01/11/2010




Featuring Mistresses:

Jean

Jean Bardot cracks her whip. She is in the mood for a hard core single tail whipping. She starts in hard and heavy, leaving instant red stripes on her slut's back. The slut's knees buckles and he begins to fall. "Stand up, you bitch." Ms. Bardot demands as she keeps right on whipping the bitch. Eventually the slut is barely able to keep his foot. Ms. Bardot grabs the slut by his face harness, "We are just get started, slut. Save your tears." She booms and then lays back in with more cutting lashes - Enter

Club Dom Femdom TGP

- updated. many new galleries added. No blind links. Enter

Femdom TGP

- 10000's free pictures and movies in free archives

Humiliation POV Vanessa Makes You Suck Dick -

01/11/2010


Category:

Forced Bi

- Look at you down on the ground with your mouth open in front of me. Such a cock sucker! I know you are craving my big hot black cock.

Beg me for my big black cock and I might shove it down your throat. But only if you beg like the cock craving whore you are deep in your ass!

Mistress Jennifer

- 10 of January - Mistress Autumn continues to scoop tasty morsels of pussy juice from Her hole and spoon feed the nipple clamped submissive locked in the chair. She tells him if he is good and takes some electrical into his balls he may be allowed to taste Her ass and pussy. She produces four electrodes and attaches two to his nuts and two to the inside of his thighs and turns on the juice. Happy with his suffering She pulls on his nipple clamps and humbler and slowly turns the TENS unit up to full power. Removing the device She ties his cock head up tight and strings it up to his posture collar and begins to whip his exposed balls.Enter

Mistress Jennifer Pantyhose Supremacy

- January 10, 2010

The Ladies laugh and tell him he has to show them who is the prettiest. Both will be milking his cock and the one he squirts on is his favorite. Mistress Lia grabs his shaft and strokes and they tag team milk him, stopping several times to lube up his red and sore cock. Finally, Mistress Monica strokes the shaft as Mistress Lia has a very firm grip on both his balls and he begs permission to cum. Mistress Monica, very excited, grants him permission and he squirts an enormous amount of jism all over Her perky young breasts. They feed him some of his load and laugh at his predicament as he hangs limp and drained. Enter

Pantyhose Supremacy


The English Mansion - for updates for 11 of January : The Pleasure Pain Principle - Featuring Mistress Sidonia & Sub Suzie - Mistress Sidonia initiates one of her scientific experiments, with the unwitting help of her slavegirl and slaveboy. The slavegirl is commanded to keep the slavboy's cock hard by whatever way she can, she keenly uses her tongue and mouth on the lucky slaveboy. Mistress Sidonia then introduces the pain element by beating his arse with various implements, thus linking pleasure and pain in the poo...

Mistress Sidonia's Blog Entry - Club Rub at The Lightbox
Enter The English Mansion

XXX Photo Contest - new photos added. Very big and absolutely free archives. 15 femdom categories. Enter XXX Photo Contest



---


Added January 10, 2010. Goddess Vittoria enjoys holidays and I add some non exclusive, but very interesting big clip from one of the oldest Kink.com's BDSM sites - Whipped Ass - woman dominates woman. It is always cruel action. From my view Mistresses are more cruel to their female slaves than to male slaves. And of course they more cruel than Masters who dominate women. In this clip female slave looks destroyed in the end of the action and her smile in the end doesn't look real smile. Enjoy :

Enter Whipped Ass
---
Adedd 09 of January - Very interesting big trailer from Divine Bitches :
Educating a Bitchboy Episode 2 :

Divine Bitch: Mistress Ashley Fires
Bitchboy: Jason Miller
Mistress Ashley Fires unleashes like we've never seen her do before! Bitchboy Jason Miller has his ass perched up high and exposed while in chastity. Ashley warms up by giving him a heavy flogging then sliding her ass lollipop deep playing around inside like it's a little toy. Since bitchboy's cock has continually proven to be completely worthless Mistress Ashley uses his mouth instead, first to worship her asshole through her transparent latex then to clean it while she has knee buckling orgasms. Mistress Ashley is fiercely cruel never letting Jason out of chastity and instead uses a fuck machine to get herself off while he is made to hold her vibrator and worship her feet. This devastatingly delicious bitch then rubs her cum all over his chastity belt and hits it home by reminding him how he'll NEVER fuck her hot pussy!
Don't miss the rest of Jason's training here at Divine Bitches! Come back and see if this bitchboy has what it takes to serve on the prestigious The Upper Floor!

Click on the picture to watch the movie (Clip is big, so be patient for download) :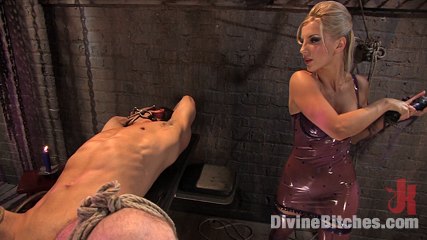 Maitresse's Evaluation
Objectives
grace
flow gracefully in any situation

devotion
is he truly devoted to serving a women and The House

patience
patiently awaiting each command or task without his cock getting in the way
Closing assessment
complete mess no grace whats so ever
continue training in proper posture and body stance
needs to be broken down even smaller
cock continually gets in the way despite it being useless
suggest to remain in chastity
Enter Divine Bitches to see more free samples and updates


---