Added 23 of January, 2010. A few good big movie clips for you. Info about updates below the clips :
Mistress Rebecca discusses her fascination with ballbusting and she finally gets the opportunity to act out her wildest femdom fantasies with a mail-order painslut! This sexy petite blonde ballbuster began kicking his balls while wearing tiny black thong panties and a very high miniskirt! She kicks and punches and slaps his pathetic genitals while making fun of his small penis! After flashing him with a barrage of upskirt groin-kicks, she slowly strips off her clothes and teases him while his cock and balls are brutally tortured! She doesnt even permit him to touch himself or cover his balls to protect himself from a ruthless onslaught of femdom male abuse (2 min) :


Enter BrutalBallBusting.Com


Sissy Maid Gabriellas ordeal as she continues to suck the cock forced on her by Goddess Sonya. This time though, she must endure taking it in her boy cunt from another slave as she slobbers and chokes down cock under strict orders. Then Goddess Sonya whips them all as she smiles at her devious orders being carried out and inflicted on that good-for-nothing, vain Sissy Slut. 2 minutes clip :


Enter EbonyFemdomVideos.Com

Updates of other good femdom sites :

Club Dom -

Born for the whip




Coming 01/23/2010




Featuring Mistresses:

Deanna

Goddess Deanna is in a particularly cruel mood. She has her slave restrained to a cross and a single tail in her hand. She proceeds to whip this bitch in cruel and sadistic fashion. The bitch's pleas for mercy are only met with more cruel lashes. In fact, the more the bitch cries, the more Deanna enjoys herself. Deanna circles the slut with her whip, striking him from every direction. She runs her hands over the welts on the slut's back and smiles. This is what male bitchs were born for.

Enter Club Dom

Rapturevision -01/23/2010 - Super Nova Strap-on 2! - Starring: Mistress Nova : In this extremely sensual strap-on sequel, the sexy Mistress Nova entices her slave with a sweet hard ass fucking! Immediately, she puts his ass high in the air right before penetrating him deeply from behind. With the utmost sexual skill she fills every inch of his anal passage with her Femdom cock. A real gem! Enjoy! Enter Rapturevision

Princess Kali - Video: "Prancing My pony around by his reins in My stable!" added

Young Femdom -

23 of Jan, 2010 -

Rob visited two girls at home knows that he may trample and they want to do with him in the evening.

They had been told anyway.With trampling it started but then made the girls do what makes them even more fun.

Trampling, Kicking, Handcrush, Whipping, Heelsworship 244 Pictures and 17.00 min. Videoclip

Femdom TGP - updated. many new galleries added. No blind links. Enter Femdom TGP - 10000's free pictures and movies in free archives

Humiliation POV - Mmmmm, look at all of my sexy heels. I will show you so many different kinds, from high heel black boots to stripper heels. I know you foot freaks love getting off to my feet.
And what makes this even better? You bought them for me loser! All of these shoes I got from losers just like you so I can walk all over you and then straight to the bar, to meet a real man! You are so weak for me, down on your knees, worship and obey.

Mistress Jennifer - January 22, 2010 - The gorgeous blonde pinup Dominatrix continues to whip the bound slave's balls while seated between is legs. She rises after a particularly harsh set of strokes and give him time to recover as he worships Her breasts and sucks Her perfect nipples like a baby. She whips his balls some more and allows him to breast worship several times in rotation before seating Herself and bringing Her spiked heels up to inflict some high heel torture on his cock and balls. She compresses his cock with Her foot and jabs wickedly into his balls with the razor sharp spiked heel. Next view She has released him and has him on his knees, hands cuffed behind. She presents Her perfect asshole and tells him to lick every crevice. He begins his task happily and tongues the hole in front of his face. Enter Mistress Jennifer

Pantyhose Supremacy - Big submissive marco is cropped and ordered to bend over the couch by Mistress Hollie. She enters him from behind and Her powerful thighs strain as She jams Her cock in and out, grinning as he moans and cries. She puts on a bigger strap-on and takes him from the rear on the bed, cropping him and verball humiliating him. Her nipples poke brazenly from her black bra as She stretches his ass out with Her cock. Enter Pantyhose Supremacy

Whipped Ass - 22 of Jan, 2010 - Riley's mundane job causes her to have fantasies of a dark world where the line between slavery and work is blurred. Ariel X is her sadistic boss who keeps her in bondage and plays with her at will. Suspension, strapon sex, whipping, ass licking and nipples clamps included. 25 pictures, 44 min clips

Club Stiletto 21 of January, 2010 5 big clips added :


Cushion for My Ass

(Video)


Mistress Jasmine

looks at the floor and sees many cushions to sit on... but nothing compares to having a warm, soft face as a cushion for her ass. She sits long and hard in all positions as the seat cushion struggles beneath all her gorgeous weight.
Length: 7 minutes Size: 153 MB Format: WMV Category: FACE SITTING
==========================


Lick em Both POV (Video)
Mistress Amber and Mistress Roxy kneel on the bed and shake their asses for you to lust over... to beg for... and to come worship. They spread each other's ass cheeks and command you to get in there and clean their asses with your tongue. They want your tongue in nice and deep in each of their holes as they shake their booty and slam their ass flesh against your face. WOW, two amazing Asses and you get to worship them both! This sizzling POV clip will have you hard and in hand in seconds. Club Stiletto
Length: 5 minutes Size: 101 MB Format: WMV Category: POV
=========================

Filthy Shoe Cleaning Trample 2 (Video)
To impress it into the slave's mind that he needs to clean her shoes perfectly, Mistress Bijou stands on his face full weight on one leg. Then it's back to work for his tongue on her filthy shoes while she stands on his chest. Good dirty shoe cleaning camera angles and the slave really tries hard to please the Mistress. Length: 5 minutes Size: 105 MB Format: WMV Category: TRAMPLING Club Stiletto
==============================
She Loves to Spur (Video)
Mistress Melody was upset that she never had a chance to try cruel riding at previous sessions. As soon as she mounted her horse, there was no question who was in control and no doubt that Mistress Melody absolutely LOVES to spur and whip and really pull the reins HARD! She delivers brutally hard kicks and lots of them throughout the ride. This horse suffered! Length: 7 minutes Size: 151 MB Format: WMV Category: PONYPLAY Club Stiletto
==============================
Classic Moon Facesitting 2 (Video)
We've had a number of requests to release some of the classic analog video footage from the wonderful Mistress Moon archives. These scenes have never been released in the larger 720 X 480 video format so if you're a Mistress Moon fan, you will want to add this clip to your collection. In this scene, she facesits her slave mercilessly in both forward and reverse positions. Mistress Moon looks fantastic in her hot pink outfit. Her style is both sensual and cruel which is why she was hailed as one the of the Facesitting Queens in the 90's. Length: 4 minutes Size: 152 MB Format: WMV Category: FACE SITTING Club Stiletto
================================


Foot Dom United - 23 of Jan, 2010 : 6 min clip added : Feet Slave - Heels and Stockings - Clip 1 Goddess Starla has her leashed up sissy husband randy down on his knees to lick her mules clean while she relaxes on the sofa and reads a magazine when she notices her slave slut got erect without her permission and she slaps on him and orders him to behave himself


Brutal Facesitting - - Updated: 22 January 2010 -

Pics: If you've been waiting for breathtaking facesitting clip, then you are welcome! Amazingly looking mistress Melissa in sexy stockings loves riding guys' faces, but this time she does it even more passionately than ever. Fascinating babe is moaning with pleasure until the slave is licking every inch of her wet pussy, and the gorgeous mistress is sure to cum soon.




The English Mansion - 23 of January - Broken In 24 Pt1 - Featuring Mistress Sidonia - Ever wondered what it would be like to do a 24hr scene? Relentlessly used and abused for hour upon hour with no release or let up? Well here at the English Mansion we subjected a hapless slave to such a torment and filmed the results and all to fulfill the evil fantasies of Mistress Sidonia. In this epic movie, the ill-fated slave remains in the hands of his evil tormenter, Mistress Sidonia, fo...

22 of January - Tour Of The Mistress's Boot Room - Featuring Mistress Sidonia - Following many slave requests, Mistress Sidonia gives you the honour of a personal tour of her extensive boot room. She allows an intimate look at some of her favourite boots and shares the experiences she has had whilst wearing them. Mistress Sidonia is a true boot lover and this is a fascinating behind the scenes insight.

Extreme FootDom - Jan 22 - Mistress Arella's stockinged feet and high heels are worshiped while Mistress Heelena sits on the slave


XXX Photo Contest - new photos added. Very big and absolutely free archives. 15 femdom categories. Enter XXX Photo Contest



---

New! Updates for January 22, 2010.
Goddess Starla has her loser husband bitch slave locked in chastity for 36 days while he is away. She brutally teases and tortures him before forcing him to eat his own cum once she's milked him. See the big preview clip :


Enter Femdom Bride 24/7 femdom HERE

---
Added January 21, 2010 - Big clip from Divine Bitches : Three pathetic worms are milked and denied by cock milking machines with two evil bitches at the helm :
Three new pledges desperately want training by Maitresse Madeline and The Divine Bitches. These worms are put through the ringer by Maitresse and her assistant Madison Young. They are hooked up to cock milking machines while flogged, caned and zippers are painfully pulled off all at the same time much to the amusement of the ladies. The pledges mouths are used for ass worship and oral servitude. In the end one wins and is rewarded with a nice strap-on ass fucking while the others are painfully milked with Maitresse's masterful hands. Whoever cums first will humiliatingly spray the other with his own slave filth while one slave is left completely denied. Clip on the picture to watch a big sample clip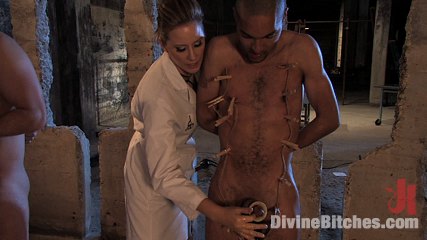 Enter Divine Bitches

Updates of other good femdom sites :

Club Dom -

Coming 01/21/2010




Featuring Mistresses:

Brianna

,

Lexi

Brianna's little sister, Lexi, is home from college. Her boyfriend has tagged along. Lexi has told Brianna how unwilling her boyfriend is to sexually pleasure her. He is all about himself and will not take the time to focus on her sexual needs. Brianna laughs. She is all too familiar with such self absorbed jerks. She tells her little sis not to worry. She will show her how to teach her boyfriend a lesson. Lexi lures her boyfriend into a threesome with her sister. The boyfriend thinks he has hit the jackpot. The ladies have other ideas. Brianna straps on a huge cock around her waist. She puts an electronic shocker around the boyfriend's balls and a dildo gag in his mouth. Before the boyfriend can fully understand what his going on, she has him bent over a table and is drilling her dick into his ass. Lexi grabs her boyfriend's face and pulls it between her legs. She is going to ride his face until it is dripping with her pussy juices. No more being selfish in bed for this jerk. Lexi starts shocking his balls and just doesn't stop. It turns her on t to face fuck her boyfriend and punish his balls while her sister pumps his ass. Revenge has never been so sweet. Enter

Club Dom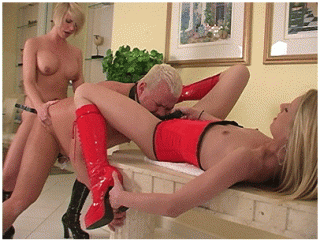 Enter Club Dom

Humiliation POV Vanessa Makes You Suck Dick -

01/20/2010


How fucking pathetic is it that the only way you can cum is by jerking off to our sexy feet? We cannot stop laughing about what a pathetic foot wanking loser you are!
Lick the soles of our heels, go ahead lick your computer screen, no one is watching.. because you are a lonely pathetic loser! Now suck on our heels, lick the soles of our feet, oh god, this is too funny! We cannot stop giggling! We will put you in your place bitch!

Mistress Jennifer - Mistress Rachel has her new found friend Mistress Karma over for a day of kinky nasty play with her slave marco. The two Mistresses intend on making slave marco suffer through the day as they use him for there pleasures. The Mistresses take turns using slave marco as a punching bag. They twist is nipples and squeeze his cock and balls until they turn purple a deep purple. Mistress Karma lays some hard punches as Mistress Rachel holds slave in a head lock. The Mistress Karma steps back and Mistress Rachel plants a few good kicks to slave marcos cock and balls. They decide for a little reward he can have a smell and taste of there very wet pusses. Enter Mistress Jennifer

Pantyhose Supremacy - With a dildo deep in slaves ass, Mistress Eden then blindfolds slave with a used pair of her stockings. She crams her feet deep in his mouth until he's gagging. Giving slave a break, She then smothers her slave with her Black high heeled shoes. Pushing him back on all fours Mistress begins a regiment of ball and cock kicking. Bored with his response she locks her nylon covered legs tight around slaves neck. Mistress squeezes until he beds her to stop. Enough with this sissy slaves pleasure she orders him to the kitchen for kitchen duties. She finds him doing a shitty job cleaning. Kicking him again in his balls with her high heeled boots. Enter Pantyhose Supremacy


The English Mansion - 21 of January - The voluptuous Mistress Xena requires some pampering and her willing slave will do as she commands. She orders the slave to clean her shoes with his tongue and as he does a commendable job, then allows him to worship her feet and stockings, which he does with zeal. His sterling effort is rewarded with some ample smothering from the Mistress.

Under Feet - 20 of Jan - Clips: Miss the strictest mistress the world has ever seen!? She's been away for a year and a half, but today she's here to treat ill-behaved males! Kinky Mary returns to show guys how they must behave in her presence. No mercy for the naughty slaves. Just take a look at this fella who's submissively licking Mary's boots until they become clean, and only then beautiful mistress lets him taste her refined feet!
Extreme FootDom - Jan 20 - Mistress Angela Ryan is having fun with her slave girl kneeling before her sucking on her toes and licking on her beautiful feet while she moves her feet around to tease her

Mean Bitches - Jan 21 - Online Dating 14 - 1 video + 20 pictures

Mean Amazon Bitches - Jan 21 - Identity Theft 6 - Aryana Starr - 1 video + 20 pictures

Deviant David - Jan 21 - Melvina 14 - 1 video + 20 pictures

Mean Dungeon - Jan 21 - Tara Lynn Fox 14 - 1 video + 20 pictures

Foot Dom United - Video clip added 21 of Jan : Stocking Slaves - Mistress Johanna decides the best place for her foot slave would be to keep him trapped in between the chair she is sitting on so she could rub her smelly stockings feet all over his face without any resistance

XXX Photo Contest - new photos added. Very big and absolutely free archives. 15 femdom categories. Enter XXX Photo Contest

---


New! Updates for January 18, 2010.
Very interesting double strapon clip from Club Dom. Strapon is the lowest stair a male can get as a slave, esapecially when penetrators are beautiful women he never sleep with (my opinion). Enjoy :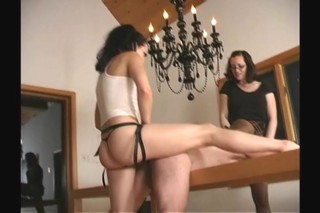 Veronica and Jean have their slut bent over the dining room table. Jean is riding his ass as Veronica drives her cock into his throat. The ladies are having a blast as they force the bitch to admit how much he loves dick. Veronica smacks the slut in the face with her strap on dick and makes him beg to suck it. Jean enjoys the show as keeps on drilling his ass. Then the ladies flip the slave onto his back and force him to jerk off. They laugh as she explodes all over himself. Not only did get double plugged but he enjoyed it! The Jean force feeds the bitch his own cum.
Enter Club Dom
---
Added 16 of Jan, 2010. Big (3:23 min) femdom clip from The English Mansion (cbt, foot worship, strapon, caning, whipping, facesitting, pussy and ass worship, forced bi-sex) . Click on the image to see :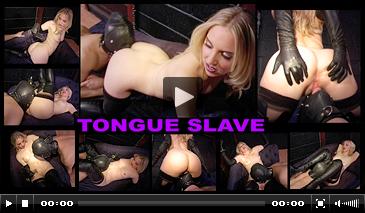 Enter
The English Mansion
---
MORE UPDATES HERE :
Updates till 14 of January, 2010 -
Updates till 8 of January, 2010 -
Updates till 2 of January, 2010 -
Updates till 26 of December, 2009 -

Updates till 20 of December, 2009 -

Updates till 11 of December, 2009 -

Updates till 8 of December, 2009 -

Updates till 3 of December, 2009 -

Updates till 28 of November, 2009 -
Updates till 23 of November, 2009
-