New! Updates for January 30, 2010.
Big exclusive clip "Domestic Service" from Princess Kali . Click on the picture to watch the clip :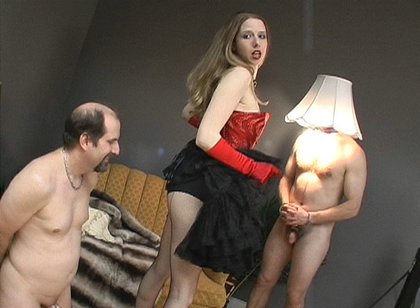 Enter Princess Kali

Big 2 minutes from Wired Pussy - Jade gets put over her Princess' knee and receives a hard OTK spanking for being a dirty little slut that stays up too late and parties to hard. Then her head is put under the Princess' chair, transforming her into a beautiful headless ass to be fingered and toyed with. A cold electric butt plug is inserted into her tight little asshole and the juice is turned up till Jade squeals like a piggy. She is put in a strict hogtie, made to cum, made to beg, and made to scream. And that is just the first scene. You won't want to miss what happens next. EMS pads, the samurai, strap-on fucking, breath play, orgasms in bondage and much, much, more. Watch the clip :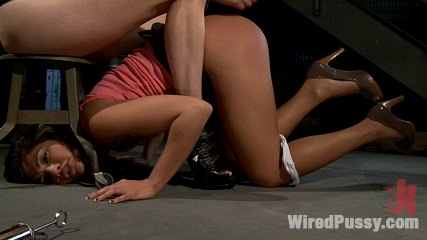 Enter Wired Pussy

Big 2 minutes clip from Whipped Ass - Highly orgasmic girl next door, Lindsey Grant shows off her flexibility and kinky side to Isis Love in this hot lesbian BDSM scene! Her natural tits and full ass get played with and punished. She gets fucked hard in the pussy and ass while in strict bondage. Lindsey's authentic cries and moans from intense pleasure and pain make this a sexy shoot not to be missed. Watch the clip :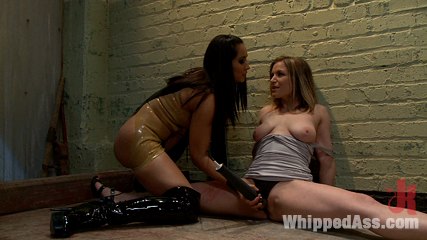 Enter Whipped Ass

Updates of other good femdom sites :

Club Dom -

Coming 01/30/2010




Featuring Mistresses:

Varla

Mistress Varla enjoys a good caning. She has her stable slave's balls locked into a vice and his hands restrained behind his back. She informs the helpless bitch that he will be receiving a savage caning. She expects him to maintain good slave posture throughout. Then Varla smiles. She knows this bitch will be lucky to remain standing with the sadistic mood Mistress is in. Varla begins delivering cane strokes, one after another. Instant red and purple welts rise up on the bitch's ass. She runs her hands over the slut's ass, feeling the heat her cane has left on the slut's ass, even through her leather glove. It turns her on. She canes the slut even harder. The slut cries for mercy but his suffering only fuels Varla's sadistic bend. There is no mercy in her dungeon. She finishes the slave's ass with repeated harsh cane strokes, enjoying each one.

Enter Club Dom ==============================


Coming 01/29/2010




Featuring Mistresses:

Eden

Eden is in the mood for an entertaining game. She has her slave strapped down tightly. "We are going to play a game." She tells the helpless bitch "You like games, don't you?" In this game, the odds are in Eden's favor. If she can control the slut's cock and force him to cum, she will punch him the balls. If the slut can refrain from cumming, then he has saved himself a serious ball beating. Eden begins stroking the slave's cock with her soft hands and tender lips. She puts her pussy in the slave's face, allowing taste how wet this game is getting her. Eden knows that she will win this game and get her way. As expected the slave is no match for Eden. He can't help but shoot his load. Eden smiles. She grabs his balls up and shakes her head. Then she stands up and towers over the terrified bitch. "Do you know what happens next?" Eden enjoys watching the terror on the slut's face as she slowly leans over him, picks his balls up and begins punching his empty, aching nuts.

Enter

Club Dom Rapturevision

-

Acting like a good slave should, Mistress Cybill's tied up victim takes all the pain the foxy Vixen dishes out as she stomps, pulls, crushes, AND TWISTS his aching cock and balls! Without remorse or mercy, the sexy-figured Domme looks upon her screaming slave as her grip tightens around his bulging sack! With a bit of her holy saliva and brutal love, the slave barely makes it out alive but after this ordeal, can his broken manhood survive? Enjoy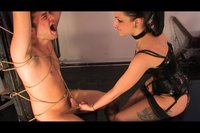 Enter
Rapturevision
Femdom TGP
- updated. many new galleries added. No blind links. Enter
Femdom TGP
- 10000's free pictures and movies in free archives
Humiliation POV -
01/29/2010
I know you are a panty loving whore! All you do all day long is think about wearing girl's panties! Fag! Those are girls panties, not your panties! I probably have lots of panties you would LOVE!

Do you picture yourself in my panties? Will your teeny tiny cock fit inside? Watch me model my sexy panties so you can see what they look like on a real woman! What would you look like in my pink panties…? You would look like a pathetic ugly sissy faggot! I want nothing to do with you, you piece of shit!
Lady Sonia - 30 of Jan, 2010 : I was speaking to Paige Fox a few weeks ago and she was telling me that it was impossible to make her cum just by machine and vibrator and without the help of a guy (preferably her boyfriend) so when I invited her down to my home here to see a REAL fucking machine face to face for the very first time I asked her if she would like to show me just how easy it would be to hold out… I have had MANY years experience of the clitoris so needless to say Paige really didn't hold out for very long and despite her embarrassment the results here are absolutely amazing! Every second caught on video as I work on her clit with a VERY high powered vibrator and then after the ULTIMATE stretch as "Mr Unmerciful" pounds her with a HUGE dildo I bring out my special new "tuned" Sybian and this really has to be seen to be believed… If you are a lover of REAL female orgasms on video I can promise that this one is going to be a REAL treat for you!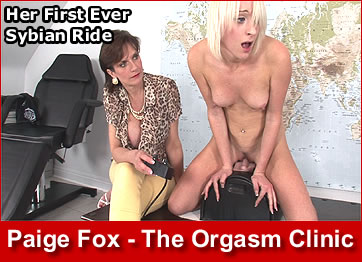 Foot Dom United - 2010-01-30 - Video Clip 4 min 55 sec added :
Feet Slave - Mistress Berlin comes back home from a hot day outdoors and can't wait to have her sweaty white socks sniffed by her slave as she orders him to remove her boots and she wastes no time burying both her socked feet on his face making him sniff on them before she forces her foot into his mouth to gag him
The English Mansion - 30 of January - Broken In 24 Pt1 - Featuring Mistress Sidonia - Ever wondered what it would be like to do a 24hr scene? Relentlessly used and abused for hour upon hour with no release or let up? Well here at the English Mansion we subjected a hapless slave to such a torment and filmed the results and all to fulfill the evil fantasies of Mistress Sidonia. In this epic movie, the ill-fated slave remains in the hands of his evil tormenter, Mistress Sidonia, fo...
Enter The English Mansion
--------------------------------------
30 of January - Secret Cuckold - Featuring Miss Eve Harper

Brutal Facesitting - Jan 29, 2010 - Clips: If you've been waiting for breathtaking facesitting clip, then you are welcome! Amazingly looking mistress Melissa in sexy stockings loves riding guys' faces, but this time she does it even more passionately than ever. Fascinating babe is moaning with pleasure until the slave is licking every inch of her wet pussy, and the gorgeous mistress is sure to cum soon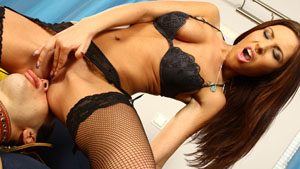 Extreme FootDom - Jan 26 - Closeup of Mistress Arella's feet and shoes worshiped by her slave

XXX Photo Contest - new photos added. Very big and absolutely free archives. 15 femdom categories. Enter XXX Photo Contest

---

New! Updates for January 28, 2010.
Great 2 minutes clip from Divine Bitches - Fresh Meat: Episode 1 "Tease and Denial" from the video added to the site at 28 of Jan, 2010 - Mistress Lorelei Lee has a new piece of meat to train. She administers painful CBT and a heavy flogging right off the bat. She remains painfully sexy the entire time. Mickey is made to face his fears of water, confinement and solitude. Then humiliatingly gets fucked in his tight asshole, while chained to a filthy toilet. Mistress Lorelei must have been feeling sorry for him that day and rides his dick to orgasm. Just when Mickey thinks hes going to have permission to blow his load she laughs in his face like the evil flirt she is and completely denies him. This update includes flogging, CBT, strap-on ass fucking, paddling, bondage, tease and denial.
Does this piece of meat stand a chance to make it up the Divine Bitches ladder? Stay tuned on Divine Bitches and watch Mickey's progression or lack there of!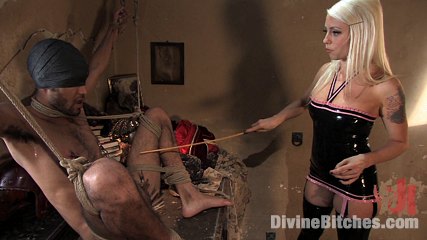 Maitresse's Evaluation
Objectives
fears
identify fears

pain
proper pain processing

cock readiness
always at attention and ready for sex


Closing assessment
successfully faced fears
began pain processing
greedy
cock was useful


Updates of other good femdom sites :

Club Dom -

Coming 01/28/2010




Featuring Mistresses:

Tatiana

Tatiana has just purchased a new slave and his eager to introduce his balls to her sadistic manner . She has the helpless bitch bound tightly with his cock and balls strapped helplessly in front of him. Tatiana has a strong dislike for balls. She enjoys making her new slut scream in agony has she punishes his nuts. Tatina crops and canes her slut's worthless balls until bruises and welts arise...and then she lays in even harder. She grabs her slut's aching nuts and demands, "Who do these balls belong to NOW?" Tatiana laughs. She will enjoy tormenting this slut's helpless balls. In fact, she has decided that all of mornings will start out just like this one. Enter

Club Dom

==============================


01/27/2010




Featuring Mistresses:

Eden

Eden is wildly turned on by training her new cuck. She is fucking her cuck in the ass while demanding that he suck her stud's huge cock. The deeper Eden drills her dick into the cuck's ass, the deeper her stud drills his cock into the slut's mouth. Eden's pussy is soaking wet. She is so turned on by the control she has over her cuck. She loves the feeling of her strap on dick sliding in and out of her cuck's tight ass as she watches her stud fuck his eager mouth. This cuck just may be a keeper. He is certainly a good cock sucker. Just then Eden's lover cums in her cuck's mouth. Eden had wanted to watch her cuck get a cum bath. She is furious with her cuck. Her cuck slut tries to swallow and keep on sucking but Eden knows better. She demands that her cuck bitch open his mouth. She watches as her stud's cum drips out of her cuck's mouth. Eden grabs her stud's balls and tells her cum hungry slut, "You had better hope there is enough cum in these balls to please me. We are just getting started."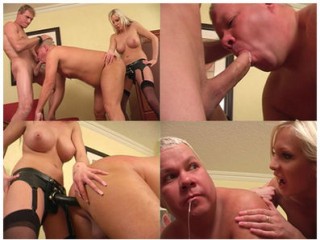 Enter Club Dom

Rapturevision -

Mistress Athena serves up a bit of corporal and a bit of ass fucking! First, she warms up her slave's rear-end for a rude and intrusive awakening, she pummels it with her unforgiving black paddle as he lays on her lap! Soon afterward, after his cheeks are good and tender, she whips him around and brutally fucks his brain out with her hard strap-on cock! Enjoy!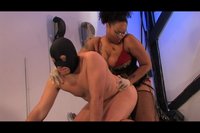 Enter Rapturevision

Princess Kali - My Queendom has a lot of very loyal sluts and slaves who just love to degrade themselves in front of the camera! Click on the screenshot below to check out My femdom videos!

Title: "Outdoor Trampling"
Filesize: 75 MB
Runing time: 4 min 34 sec
Last updated: 2010-01-27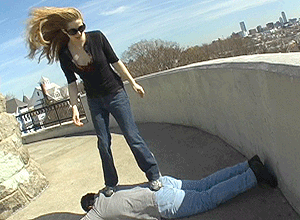 "Dressed in sporty clothing of sneakers and tight blue jeans, Princess Kali ventures to the great outdoors with Her loyal trample slave. After placing him face down on the concrete where he belongs, She jumps, stomps, crushes and tramples his back and body while getting some serious air launching off his back!" Enter Princess Kali

Femdom TGP - updated. many new galleries added. No blind links. Enter Femdom TGP - 10000's free pictures and movies in free archives

Humiliation POV -

01/27/2010


Ever since my last foot worship video, so many of you foot bitches have been begging for more. Begging to worship at this Asian Goddess's feet. While I think it's sooooo pathetic, I am happy to take your money for doing nothing!


You foot freaks are so fucked up. Sitting there, on your knees, getting a boner from my dangle… Watch my heels as they dangle, become hypnotized by them, I am drawing you in. You will worship at my feet, you fucking freak!



Mistress Jennifer - January 28, 2010 - The two Mistresses continue smothering slave marco with there soaking wet pussy soaked panties. Spitting in his face and mouth while delivering some hard impact blows to his ass with there heels. Mistress Rachel lands a couple face slaps as She drives salves mouth and tongue deep in Mistress Karmas pussy. There slaves cock is swollen as Mistress Karma strokes and tortures it. Mistress Rachel intends on forcing her slave to fuck her very tight pussy. Mistress Karma with a rope around his neck holds him in his place. Mistress Rachel slips slave marcos cock in her mouth, then bites down on it like a vise. Yes this pathetic cock is ready ass Mistress Karma slips it in her hot, wet pussy.



Enter Mistress Jennifer

Pantyhose Supremacy - January 28, 2010 - Mistress Eden bearing her sweet ass as slave footboy is force to bury his face and tongue deep inside. A few more kicks to his balls and she tells him its time to go upstairs, collared and leashed she leads him up to her bedroom. Mistress begins a good flogging on slave footboy while kicking him with her boots. She ten removes her sweaty boots and has slave suck on the heels. Then she smothers him with the nasty smelling boots. Ordering her slave on his back Mistress stomps on his entire body paying attention to his cock and balls in her stocking feet.



Enter Pantyhose Supremacy


Club Stiletto Suck it Good - POV (Video)
The beautiful Mistress T wants her cock sucked. She knows you have a secret, burning desire to suck a cock, so she helps you come out of the closet to do what you were born to do... suck cock under the orders of a gorgeous Mistress. Her verbals are fantastic as she helps you deep throat her cock and make it bigger and bigger and BIGGER! You will see it grow right before your eyes and in your mouth because you're such a good little cocksucker aren't you? And when Mistress T is ready... her cock will explode in your mouth and demonstrate to her that you're her little cocksucking bitch.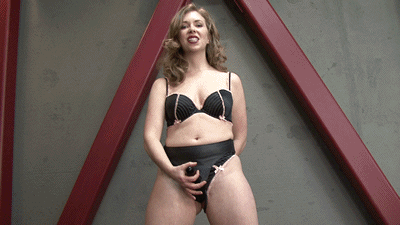 Enter Club Stiletto

Under Feet - 27 of Jan, 2010 - Pics: Hot and passionate Anna is burning to give her ill-behaved slave some lessons of female domination. Horny mistress puts on her sexy dress, high-heeled shoes and starts the performance! Poor male has to lick every inch of Anna's shoes, and only then amazing blonde lets him pass on to her charming feet. Get ready to enjoy the hottest foot fetish session



Foot Dom United - Video Clip 4 min 29 sec added : Stocking Slaves - Mistress Sar sits on top of her slave and enjoys a typical worship session from him as she buries her stockings feet on his face and has him lick and sniff on them

The English Mansion - 28 of January - Attending To Mistress Xena - Featuring Mistress Xena - The voluptuous Mistress Xena requires some pampering and her willing slave will do as she commands. She orders the slave to clean her shoes with his tongue and as he does a commendable job, then allows him to worship her feet and stockings, which he does with zeal. His sterling effort is rewarded with some ample smothering from the Mistress.

Extreme FootDom - Jan 26 - Closeup of Mistress Arella's feet and shoes worshiped by her slave

Mean Bitches - Jan 28 - Blackmail Co-Worker 12 - 1 video + 20 pictures

Mean Amazon Bitches - Jan 28 - The Teacher 12- Phoenix Marie - 1 video + 20 pictures

Deviant David - Jan 28 - Brown Sugar 14 - 1 video + 20 pictures

Mean Dungeon - Jan 28 - Claudia Valentine 12 - 1 video + 20 pictures

XXX Photo Contest - new photos added. Very big and absolutely free archives. 15 femdom categories. Enter XXX Photo Contest

---


New! Updates for January 27, 2010.
Short (1 minute only), but good ff/ff femdom clip from Ultimate Surrender . Click on the picture to watch it :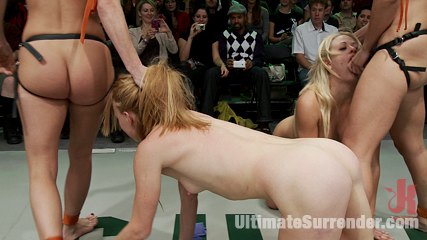 2 minutes clip from Brutal Ballbusting - Amber made a date with Eric for a party at her place but she definitely had something more sinister in mind for her would be boyfriend. Amber got Eric a little loose with some wine and then soon had him stripped naked and chained at the wrists totally exposed and vulnerable. Amber continues her sinister games pinching Erics cock with a dozen or more clothespins kicking him repeatedly in the balls and finally pretending to suck his swollen and throbbing cock but just delivering painful bites to his genitals. Amber had a great time on their date and wants to know if they can do it again on Saturday night. Watch the clip (don't click on "Enter Here", click on "Play" in the left bottom corner) :



Enter Brutal Ballbusting

---

New! Updates for January 26, 2010.
Good exclusive sample clip from Ms Bijou Steal -

Dommes Gone Wild

Two gorgeous dommes, scantily clad, taking it off to AC/DC. One slave, tied by the balls to a bungee cord fastened to the wall. As we shed our clothes, he wants to get right in the action, but the pain around his genitals is too much to bear. Poor guy, this is the closest he's been to a woman, let alone two, in years! Our slave, Big Clit, does succeed in planting one or two kisses on our asses, but can never go in for the big ....Jasmine and I taunt him mercilessly,laughing our asses off, as we prance around in the skimpiest of lingerie. Who's having more fun- us or poor Big Clit- who just won't give up?

You can watch a full clip and many others in her store . Click on the picture to see a big sample clip HERE
ENTER Ballerina Gone Bad

Fresh clip from a new site Brutal Boss (Mistresses dominate there men and women as well) Started form a very light feet worship, the action turns to very hard spanking and caning performed by 2 cruel Dommes :


Some f/f femdom spanking clip for you from Punished Angels -
Krissy and Chelsea then portray a spoiled starlet and her personal chef. Chelsea teaches Krissy to appreciate the finer points of haute cuisine.


Enter Punished Angels

Updates of other good femdom sites :

Club Dom -

Birthday gift




Coming 01/26/2010




Featuring Mistresses:

Eden

,

McKenzie

Eden has arranged for a special present for her McKenzie's birthday. She leads her into the room where a slave waits on his knees. The male bitch has been fitted with a dildo strapped to his chin and an electronic shocker around his balls. The bitch has been in chastity for weeks, in preparation for McKenzie's birthday. Eden shows McKenzie the remote control for the balls shocker. "This is so much fun." She says, pushing the button and frying the bitch's balls. McKenzie is eager to try out her new slave. Eden keeps her finger hot on the remote as McKenzie face fucks the slave. This bitch's job isn't complete until McKenzie's pussy juices are running down his face. As McKenzie has a long hard orgam, Eden sends a jolt to the slave's balls lest he think his job is finished. She informs the bitch that before the night is over, he better be drowning in pussy juice. This is McKenzie's best birthday yet.

Enter Club Dom

Rapturevision -

01/26/2010

Flogged and Ass Fucked!

Starring: Miss Cybill TroyFor Mistress Cybill, getting her to butt-fuck you doesn't come without a price! After asking his Mistress to drill his ass with her hard strap-on cock, the sexy Vixen first makes him suffer under the painful strokes of her wicked flogger! She unleashes an array of crippling blows that raises welts on his waiting ass. Only then, does the Raven-haired Vixen decide to split her slave in half with her thick shaft! Enjoy!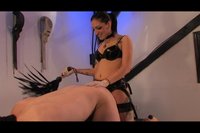 Enter Rapturevision

Femdom TGP - updated. many new galleries added. No blind links. Enter Femdom TGP - 10000's free pictures and movies in free archives

Humiliation POV -

01/26/2010


Hi, I'm Dylan the newest Brat at HumiliationPOV.com and I can't wait to sink my nails into you pathetic jerk addicts. I will have you bowing before me in no time. I am a smokin' hot Barbie Doll here to ruin you.
Worship my heels, bow down to my ass and don't even think of getting near my perfect tits.
Likes: Big cocks, sucking big cocks, real men, men with money.
Dislikes: Losers, tiny cocks, wimps, wankers, empty wallets.
I honestly hate you losers. I am only doing this for your money. Wish I never had to talk to you, perv!

Mistress Jennifer - January 25, 2010 - With his Ass red hot and slave screaming Mistress slips her fingers deep in slave marcos ass. She is preparing his tight asspussy for a Big surprise. She strokes her cock as she decides whether to use lube or not! Ass slave marco resists Mistress uses another one of her favorite straps on slave marcos asspussy. Then while his ass is red hot She drives her huge cock deep in his asspussy. Mistress pounds slaves asspussy deep and hard as he moans and screams begging and pleading for more!


Enter Mistress Jennifer

Pantyhose Supremacy - January 25, 2010 - Mistress Rachel continued Her oral assault as the submissive turned and She sucked and bit on his nylon encased cock. The cock remained hard and got harder as She punished it. She ordered him to his back and used Her feet all over his face, then slid up and face fucked him with Her nylon covered pussy and ass. She turned and smothered him while She resumed cock and ball torment. His nylon covered cock was sore and bruised as She swung a leg off and pulled hard on the pantyhose knot around his balls.



Enter Pantyhose Supremacy

Whipped Ass - 22 of Jan, 2010 - Riley's mundane job causes her to have fantasies of a dark world where the line between slavery and work is blurred. Ariel X is her sadistic boss who keeps her in bondage and plays with her at will. Suspension, strapon sex, whipping, ass licking and nipples clamps included. 25 pictures, 44 min clips




Strapon Jane

-

Added On 25/01/2010




This week we're giving you 6 guest galleries from our gorgeous Tgirl models, Kirsty and Yvette!




Foot Dom United - Video Clip m6 min 43 sec added : Boot Slaves - Mistress Ariel X has her slave girl kneeling in front of her in servitude as she pulls her hair down to have her lick her latex boots clean while she moves her boots around and gets her to lick all over them

Lady Sonia - The guy is tied down and helpless, his wife has given me her blessing to amuse myself with him and I have ALL the time in the world… So where do I begin… First of all I let him know that I am aware that he has been using his time at the stables here as a "voyeur" opportunity and watch the ladies as they ride out… So now he must be punished and what I have in mind is a prolonged afternoon of "tease and denial" followed by a VERY thorough milking before he is sent home! His hard throbbing cock is so desperate to cum… But not before I have had my fun with him!


The English Mansion - 26 of January - These Boots Are Made For Cleaning Featuring Lady Victoria. The Mistress needs her dirty muddy boots licked and cleaned, however when the slave doesnt do a good enough job he is punished with some full weight trampling and heavy CP.

Extreme FootDom - Jan 24 - Mistress Arella and Heelena whip the slave, then trample him adn then make him worship their feet

Mean Bitches - Jan 26 - Mean Bride Eva Angelina 1 - 1 video + 20 pictures

Mean Amazon Bitches - Jan 26 - Alison Tyler 2 - 1 video + 20 pictures

Deviant David - Jan 26 - Melody Nakai 3 - 1 video + 20 pictures

Mean Dungeon - Jan 26 - Mistress Diana Doll 2 - 1 video + 20 pictures


XXX Photo Contest - new photos added. Very big and absolutely free archives. 15 femdom categories. Enter XXX Photo Contest



---
Added 24 of Jan, 2010. Good exclusive clip from Princess Kali . The clip is big (35 MB) so please give a time for download. Click on the picture to download it: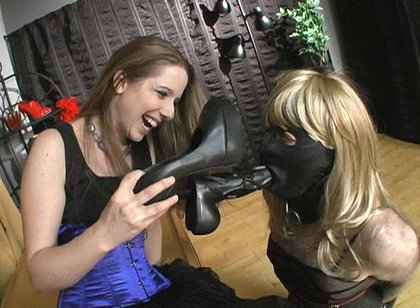 Visit Princess Kali

==============================

One more clip for today :
it looks like femdom enters more and more in our life. Before 8-9 years about strapon knew maybe 1000 people in the world. But nobody knew about "ballbusting". And now we can see more and more sites with this. I really don't like it personally, but some of you like it, so here Big ballbusting clip from Ballbusting Pornstars . Click HERE to download big clip ( 25.4 MB) Enjoy. I hope you like to watch, not to recieve :)


---
MORE UPDATES HERE :
Updates till 23 of January, 2010 -
Updates till 14 of January, 2010 -
Updates till 8 of January, 2010 -
Updates till 2 of January, 2010 -
Updates till 26 of December, 2009 -

Updates till 20 of December, 2009 -

Updates till 11 of December, 2009 -

Updates till 8 of December, 2009 -

Updates till 3 of December, 2009 -

Updates till 28 of November, 2009 -
Updates till 23 of November, 2009
-